Welcome!

Welcome to Promotional Items US!

Tired of searching the web for the best products? Only getting foreign or overseas based suppliers who don't understand the US Market? Well you have arrived!

PROMOTIONAL ITEMS US is just that, an entire website dedicated exclusively to USA Promotional products. We have so many products to offer from so many different suppliers (Made in USA wherever possible) that we couldn't possibly put them all online.

So what we do is try to make your life easier. Here are some of the categories of products we carry:

Business Supplies
Calendars and Day Planners
Coolers and Bags
Golf bags and Accessories
Imprinted Stress Balls
Magnets and Stickers
Mouse Pads
Pens, Pencils and Notepads
Tote Bags and Custom Bags
Trade Show Giveaways
USB Drives
Water Bottles and Mugs

We hope you'll give us a try. The opportunity to quote is all we ask, and we know most of the time you are supposed to get a couple of quotes anyways. Whether you're in New York, Los Angeles, Chicago, Houston, Phoenix, Philadelphia, San Antionio, Dallas, San Diego, San Jose, Detroit, or anywhere else for that matter, we will be sure to get back to you as quick as we can!

Your quote requests and inquiries will be handled by our promotional experts who are dedicated to providing the right product, at the right price for the right promotion of your brand. If you would rather pick up the phone, please give us a call toll free at 1-877 265 0002, and press 1 for sales and customer service. We'd be happy to talk you through the best options for you.

Need something in a rush? No problem! With over 3000 products available that are guaranteed to ship next day, with your logo on them, we can take care of you. From USB drives to Portfolios, from Travel items to pens, we've got you covered.

Already have a quote? No problem. Just get in touch with us and we'll match the price, and give you 5% free goods, just for shopping American!

Are promotional products effective? The overwhelming answer is yes! Take a look around your desk, your office, your home! How many products do you see that have a logo on it? The mousepad, the t shirts, the refridgerator! All of these items have branding on them and as such reinforce their presence to the consumer. You should be doing the same thing with your company brand. How often have you walked into a customer's or prospect's office and seen them using something you produce but your competitor sold them and they sit there writing with the pen your competitor gave them?

Take control! Take your customer back and push your competition out by surrounding them with your logo, your message and your contact info. Everyone uses promotional items, and they are more than just the free stuff you get a tradeshow.

Here are some great examples of effective promotional uses:
Local and federal governments: They use promotional product at community events amongst other things to promote specific agendas. How many times have you seen a button with a "Vote for This" or a bumper sticker saying "I support that". Health agencies use custom imprinted hand sanitizers to promote cleanliness and to help discourage the spread of germs.

Recruiting: Companies and armed forces alike spend millions of dollars on custom imprinted promotional products. All organizations want to leave the potential candidates with a positive impression and a way to keep in touch and there is no better way to do that than with a promotional gift. Custom printed mugs, backpacks, logo mousepads and other promotional items serve as friendly reminders for them.

Charities – Almost every charity has a promotional item associated with them The most prominent is the breast cancer awareness and pink ribbon campaigns. This is very effective branding that has been consistently applied over years and at this point, becomes a social status symbol that you are publicly declaring your support. Promotional products utilized to this effectiveness are more than just gifts, they are a fashion statement and a statement to the world about they type of person you are. The same statement is made with a Tommy Hilfiger t shirt, and the t shirt of your company too. You may not have the same global brand recognition, but people are just as proud to wear or carry your company's product too.

Conference centers, meeting halls, and boardrooms – How many times have you gone to a hotel or conference center and walked away with nothing from the session other than the blank notepad and pen with the hotel's logo on it? This is great for them. The brand is carried around and kept for months afterwards, broadcasting the corporate message to all those who attended, and it only takes one meeting to make that whole order worthwhile.

There are millions more uses for promotional items in your business, and hopefully you will realize that a small investment in your brand can have great returns for your bottom line!

Thanks for taking the time to look through our site. If you have any questions please contact us. Promotional Items - It's what we do!
Featured Item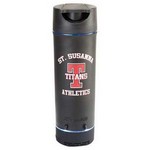 Zoom® Audio Flask
The Zoom® Audio Flask rocks out with an 18 oz. capacity to keep you hydrated. It boasts a removable, light-up, Bluetooth speaker that blasts your favorite soundtrack to keep you motivated and supports...